Muurschildering laten maken
Van Cars tot een naam!
Wat voor muurschildering wil jij op kantoor, gang of in de babykamer?
Kwalitatieve wanddecoraties
Wil je een saaie muur injecteren met inspirerende kleuren? Ben je de zijkant van je flat of de binnenruimte ervan zat? Geen probleem voor ColourCastle. Wij geven er graag kleur aan. Het is hip om een logo, slogan, of product op een bedrijfsmuur uit te laten maken. We maken ook net zo graag vrij werk op jouw gevel of slaapkamermuur.
Muurschildering
Wij kunnen alles als graffiti muurschildering aanbrengen. Een draak, logo, naam, cartoon, illustratie of foto. Of wat te denken van een leuke graffitinaam, afbeelding van Cars of Mega Mindy op een kinderkamer? Wij kunnen ook iets voordragen of een concept mixen. Zo krijg je nog iets originelers. Niets is te gek en alles kan.
Aanbrengen graffiti muurschildering
Na een akkoord op de prijsopgave en planning gaan wij aan het werk. Wij maken het ontwerp en zodra jij enthousiast bent over het ontwerp en een go hebt gegeven, plannen we een datum voor productie in. De ruimte of plek bedekken wij tijdens de productie af en vervolgens gaan we aan het werk.
Kosten graffiti muurschildering
Het vaststellen van de kosten voor een graffiti muurschildering hangt af van verschillende factoren. De factoren die een rol spelen bij de prijs van muurschildering:
• Hoe groot gaat de muurschildering worden?
• Waar moet de muurschildering komen?
• Welke materialen gaan er gebruikt worden?
• Hoe complex is het idee?
Om vast te kunnen stellen wat de kosten zijn voor jouw idee kan je het best even contact opnemen zodat we kunnen afstellen hoe we voor jouw een gave muurschildering kunnen maken binnen het budget dat jij ervoor beschikbaar hebt.
Kosten muurschildering kinderkamer
Ook het maken van een gave kinderkamer is één van onze specialiteiten. Een stoere mannenmuur, gezellige meidenmuur of graffiti schildering? Alles is mogelijk. Ook hier geldt weer dat de prijs afhangt van meerdere factoren. Stuur je wensen via de mail naar ons toe of geef ons een belletje om je wensen door te spreken.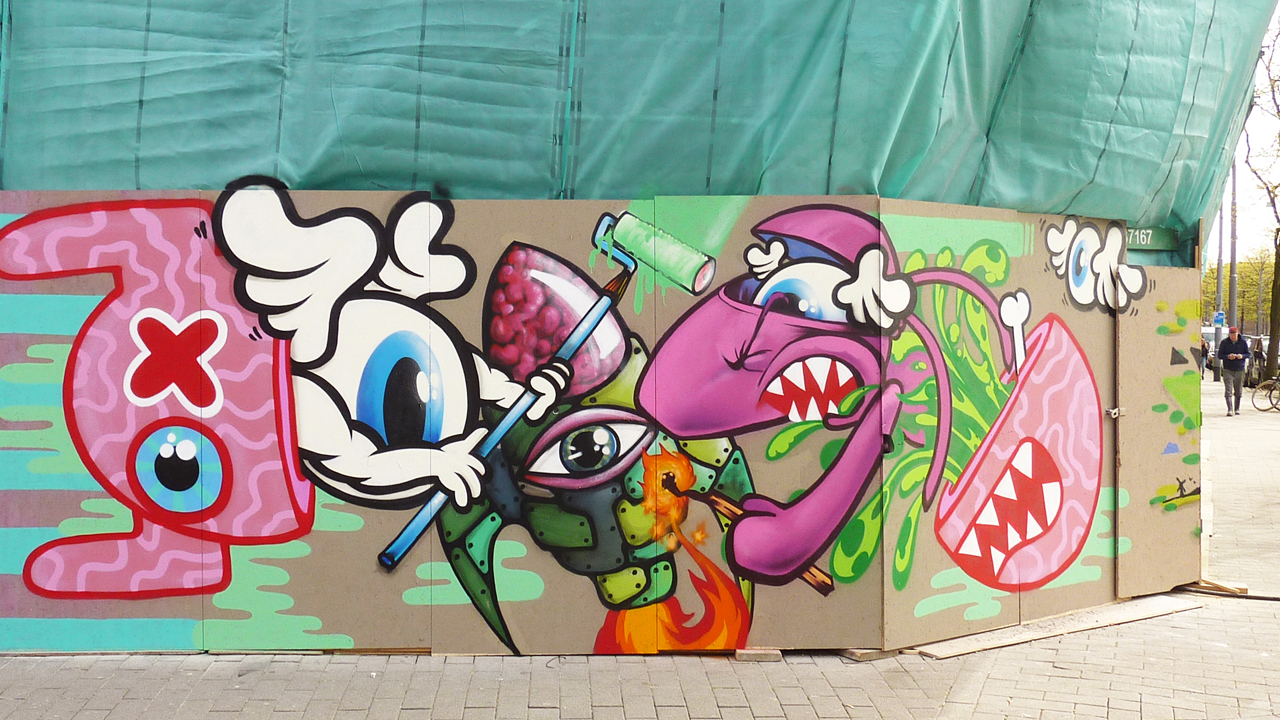 BUITEN MUURSCHILDER
Het is hip om uw bedrijfslogo, product of een andere afbeelding op een muur te nemen.
Informatie, advies of een offerte nodig?
Neem contact op, vertel ons wat voor muurschildering je wilt en ontvang supersnel een reactie. Easy peasy.